I am waiting for this book to arrive. If you click through his website under the different topics, he lists lots of good resources. Cheryl
\\\\\\\///////
Rethinking the Science, Economics, and Diplomacy of Climate Change,
By Simon Sharpe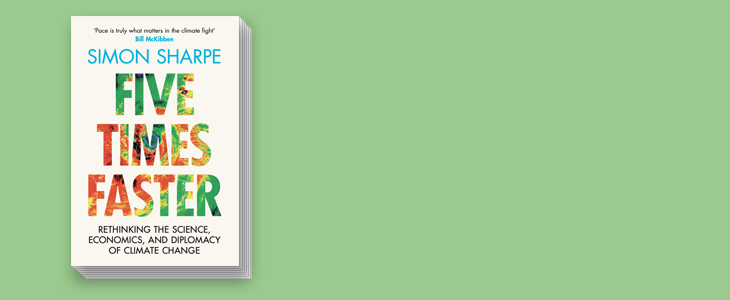 Go to the Five Times Faster website or By this book here=>
In our fight to avoid dangerous climate change, science is pulling its punches, diplomacy is picking the wrong battles, and economics has been fighting for the other side. We need to rethink our efforts, to act fast enough to stay safe.
—
'In a crowded market, this book promises to stand out head and shoulders above the rest as a seminal, timely, and much needed synthesis of the lessons learned from five decades of effort by scientists, the business community, and politicians on how to address the threat of climate catastrophe. Simon Sharpe has been a thought leader at the core of diplomatic and government activity, and has been the originator of direction-changing insights about the science, economics, and politics aiming to achieve the scale and pace of transformations required. The lessons learned that he describes, and the approaches he recommends, could genuinely cut Gordian knots and allow new levels of progress. I cannot recommend this book more highly.'
Professor Chris Rapley CBE, former Director of the Science Museum, former Director of the British Antarctic Survey
—
'As the world is suffocating under extreme weather events, widespread food and water scarcity, destruction of ecosystems, and a series of other interrelated climate-linked crises, Simon Sharpe's book is a breath of fresh air … Five Times Faster takes you on a captivating – yet alarming – journey through the complexities of climate change … Simon's book is an important leap in the right direction.'
Mariana Mazzucato, University College, London, and author of Mission Economy: A Moonshot Guide to Changing Capitalism
—
Clear assessments of the risk of climate change can motivate stronger action against it, without needing any change in underlying values or preferences. This demands a different approach to the science – focusing on what is the worst that could happen, instead of what is most likely – as well as the participation of experts from fields beyond science.
Read more about Science, Economics, Diplomacy all related to Climate Change =>