Evil Forces to Conquer – Polluters
Hello Resilience 2:1 members, I would like to start New Year with the observation influenced by Eco-Anxiety by youngest generation around us. We are definitely all in this together but I am not sure that we are aware of the responsibility for the world we are leaving behind. I am planning to prepare much more detailed information about this issue for our upcoming newsletter next month.
Following are two pages from activity book of my 6 years old granddaughter. Book is not totally dedicated to the climate, as you might think, but still showing how climate change is affecting them. It looks to me that we are passing a burden of consequences of our actions [or non-actions] to them? What do you think?
Page #01. Imaginary inventions.
The world needs less – GARBAGE; and can use more – PARKS; I wish for more – FOOD!
…imagine an invention that could help make the world a better place for everyone =>
My invention: THE SUCKER [for garbage around us].
.
Page #02: Super–Me.
Superhero name: Daisy, My superpowers: Lighting.
EVIL FORCES TO CONQUER – POLLUTERS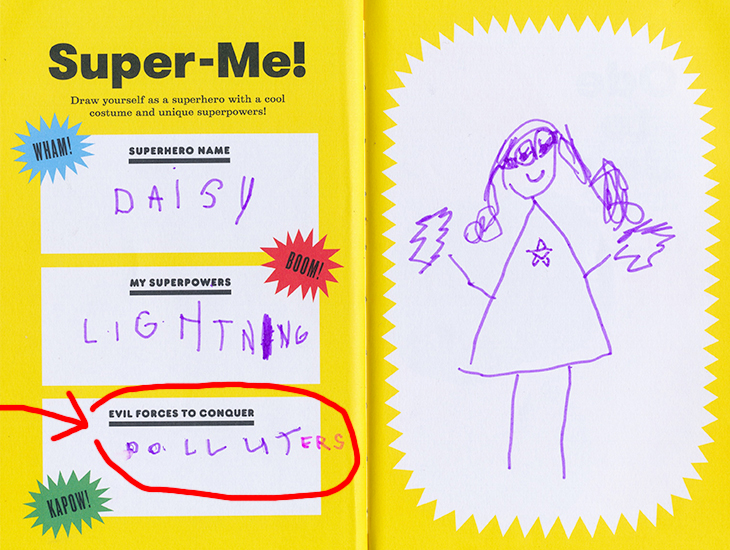 Book: "You, me, we, Books to fill together, was published in 2020 by Abrams Noterie, Ny, NY; printed in China.