LIFE ON EARTH IS UNDER THREAT
A million plant and animal species are threatened with extinction, we've lost half of the world's corals and lose forest areas the size of 27 football fields every minute.
Our future is critically dependent on biodiversity but the Living Planet Report shows we are losing it at an alarming rate.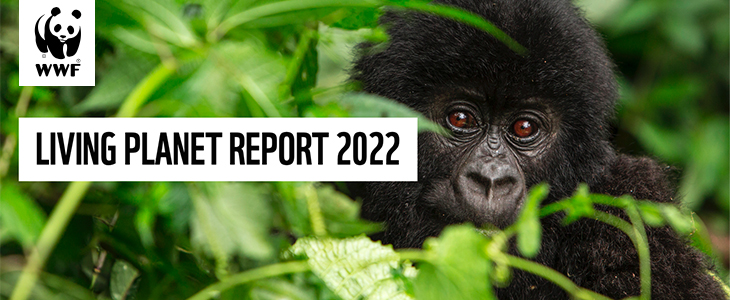 WILDLIFE POPULATIONS PLUMMET BY 69%
The Living Planet Report 2022 is a comprehensive study of trends in global biodiversity and the health of the planet. This flagship WWF publication reveals an average decline of 69% in species populations since 1970. While conservation efforts are helping, urgent action is required if we are to reverse nature loss.
Why are we losing nature?
Why we need a healthy planet?
How we can fix it?
What you can do?
INTERLINKED EMERGENCIES: CLIMATE CHANGE AND BIODIVERSITY LOSS
The evidence is unequivocal – we are living through the dual crises of biodiversity loss and climate change driven by the unsustainable use of our planet's resources. Scientists are clear, unless we stop treating these emergencies as two separate issues neither problem will be addressed effectively.
OUR BROKEN RELATIONSHIP WITH NATURE
Climate change and biodiversity loss are not only environmental issues, but economic, development, security, social, moral and ethical issues too. Industrialised countries are responsible for most environmental degradation but it is developing nations that are disproportionately impacted by biodiversity loss. We all have a role to play in building a nature-positive society that safeguards the planet for the good health of everyone.
CLIMATE CHANGE
What is 'nature positive' and why is it the key to our future? Nature positive is a disruptive idea. It forces us to think differently about our place in the world. It is a destination for humanity. It is a foundation for good governance, long-term stable societies and healthy economies. It is a philosophy that values our common future. And it is a new business model based on regeneration, RESILIENCE and recirculation – not destruction and pollution.
Read much more about all of those issues and much more on https://wwf.panda.org/
Or about "Nature Positive" here =>