C40's triennial climate action Summit
The C40 Summit is a critical moment ahead of COP27 to share and learn from cities' climate action successes. A diverse coalition of thought leaders and influential decision-makers will showcase innovative solutions, expertise and perspectives around three key pillars; a fair and inclusive pandemic recovery, wellbeing cities, and the urgent need for climate finance.
Agenda: First day – THURSDAY OCTOBER 20, 2022
Achieving Climate Justice: Opening Remarks
09:00 – 10:00
United in Action for a Fair and Inclusive Transition
10:00 – 11:00
Realising the Health Benefits of Climate Action
11:00 – 12:00
Developing Green and Thriving Neighbourhoods
14:00 – 15:00
Tackling Transport Poverty, Air Pollution and Climate Breakdown
15:15 – 16:15
Putting People First in the Green Energy Transition
16:30 – 17:30
Wellbeing Cities and Economic Prosperity
14:00 – 15:45
Sparking Urban Climate Innovation Through Collaboration
15:45 – 17:30
3rd Global Youth and Mayors Forum
16:00 – 17:30
—
About the C40 World Mayors Summit
The C40 World Mayors Summit is C40's triennial climate action conference organised in partnership with a C40 member city. This year's Summit, hosted by the City of Buenos Aires from 19–21 October 2022, will be a hybrid in-person and virtual event.
The Summit will bring together mayors, business leaders, global influencers, philanthropists, campaigners, youth leaders, scientists and residents at a key moment ahead of COP27, to demonstrate what a strong global coalition united on radical climate action can achieve.
Mayors will use the Summit to show the progress global cities have made in confronting the climate crisis during the COVID-19 pandemic, highlighting how they are accelerating the delivery of their climate commitments and helping create a more sustainable, equitable world where everyone, everywhere can thrive.
There is no time to waste — we must take faster, fairer, and more ambitious inclusive climate action now.
—
… and my favourite contribution to the congress, an ongoing project showcasing the work of artists from around the world encouraging people to imagine city …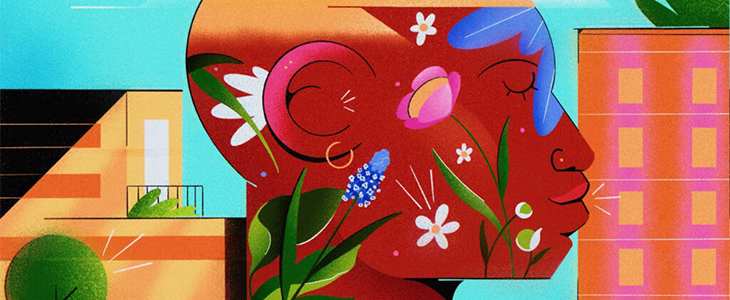 ARTIST CAMPAIGN
September 1, 2022
An ongoing project showcasing the work of artists from around the world encouraging people to imagine what the world could look like if city, national, and international leaders took the climate action that C40 cities take.
Yay Abe is a multi-disciplinary illustration studio based in Cape Town founded by Russell Abrahams. His work is inspired by local people and cultures, characterised by bold colour, a unique graphic style and playful nature. Abe said: "my work stems from the society in which I live."
Read more here => https://www.c40summit.org
or sign up to C40's newsletter for monthly Summit updates =>