Keeling Curve Prize spotlights promising climate projects
I hope that this can inspire our members, what do you think? [Aleks]

Apply by 10 Feb. 2021
Each year, the global Keeling Curve Prize awards prizes of $25,000 to each of 10 winning climate projects that reduce greenhouse gas emissions or promote carbon uptake.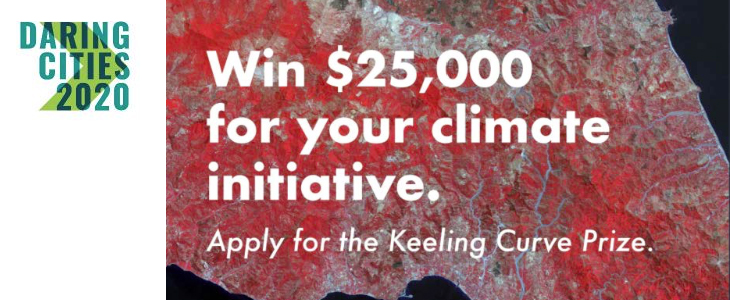 Because so many members of the Daring Cities community run projects that could qualify, we wanted to bring this opportunity to your attention.
The deadline for the 2021 prize is midnight GMT on Wednesday, 10 February 2021. We know that's coming up fast, but the online application is straightforward, the word count is limited, and applicants are welcome to recycle text written for other purposes.
Prizes go to two projects in each of five categories:
• Transport & Mobility
• Energy
• Social & Cultural Pathways
• Finance
• Capture & Utilization
Information and applications are available at:
www.globalwarmingmitigationproject.org