I just finished reading The Uninhabitable Earth – Life After Warming, by David Wallace-Wells, recommended to me by my daughter Una, also a member of our group.
I am so impressed by this "brilliant and unsparing analysis of a nightmare that is no longer distant future." In my opinion this is a book that everybody needs to be aware of, specially those of us in a position to recommend reading to younger generation, our sons and daughters, students, friends…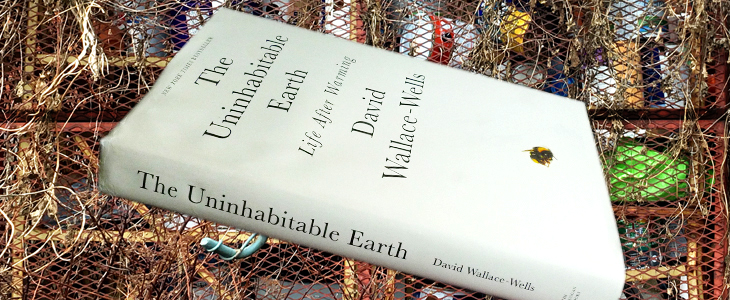 "This is a profound book, which simultaneously makes me terrified and hopeful about the future, full of regret and new will." – Jonatan Safran Foer
"One of very few books about our climate change emergency that doesn't sugarcoat the horror." – William T. Vollmann
If you don't mind I'll just list here titles of the Chapters and Sections:
I. Cascades
II. Elements of Chaos: Heat Death; Hunger; Drowning; Wildfire; Disasters No Longer Natural; Freshwater Drain; Dying Oceans; Unbreathable Air; Plagues of Warming; Economic Collapse; Climate Conflict; Systems.
III. The Climate Kaleidoscope: Storytelling; Crisis Capitalism; The Church of Technology; Politics of Consumption; History After Progress, Ethics at the End of the World.
IV. Anthropic Principle.
Last 90 pages of this book are authors notes and bibliography!
Book is available at AbeBooks, BookRags or as an eBook at AudioBooks.
Enjoy if you can. Aleks