Global Climate Conference in Education 2020
A global collaboration bringing together the world's best university and college students, academics, leaders and professionals to address the Climate and Ecological Emergency.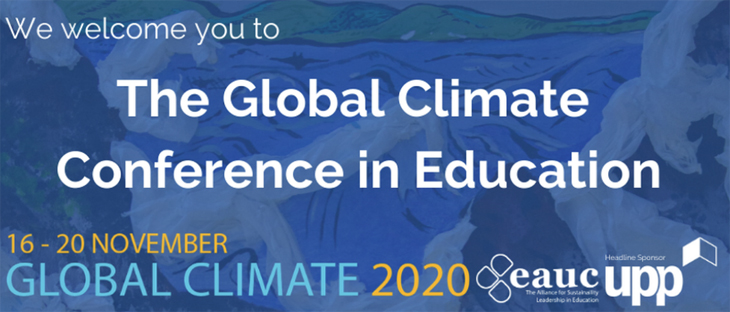 The climate crisis is a global crisis and now more than ever, in a world that is experiencing countless drastic changes caused by the Covid-19 pandemic, a focus on green recovery and climate action is vital. This can only happen with the help of thought-leadership from the education sector across the world and by listening to the student voice and that of the wider sustainability sector. Together, we need to emerge stronger by fostering resilience to future shocks like disease outbreaks and to limit the impacts of climate change.
The Global Climate Conference in Education 2020 will bring together institutions from across the world – EAUC members and partner networks including the SDG Accord & Global Climate Letter Signatories, International Green Gown Awards Champions and others – that are leading the way in transforming education at a local, regional, national, and international scale.
The five-day virtual event will create the perfect environment for educational leaders, academics, professionals and students to build the global education response to the climate crisis by focusing on mitigating, adapting and creating climate solutions while ensuring that no-one is left behind. As a sector we have to join forces and lead the climate emergency with new research, learning and practical solutions. We need to understand how to educate and teach our students and future generations to deliver change and bring support and care across our communities by inspiring and co-ordinating the sector to assume its position at the forefront of the climate crisis limitation movement.
As the founding partner of the Climate Commission for UK Higher and Further Education Students & Leaders and with the Global Climate Letter recognised as the UNFCCC education sector response to the Race to Zero, this conference will provide unique insights into the work of the Commission, and outline opportunities for delegates to contribute in the lead up to the UN Climate Change Summit COP26 2021.
To register